I've learned I'm cheap.
Bike commuting has taught me some pretty interesting things. Last night while riding the train back home I struck up a conversation with a fellow 505 bike commuter, a real nice guy. By the end of our conversation we were both united in our cheap struggle to save money for biking gear. It was Us vs. Bike Gear Companies and Bike Shops.
Take for example glasses marketed for bicyclists at a popular online bike shop:
$49.99, on sale for $29.99
Or…
Glasses at a popular online hardware store: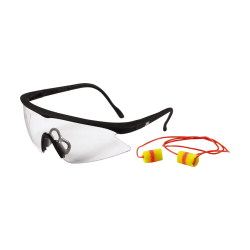 Not on sale for $8.88
We talked about all kinds of ways that we save money on gear. There's the safety vest he bought at a safety uniform store for less than $18 bucks. There's the chainsaw oil by the gallon for $8.95 (a real money saver when you consider a few ounces of bicycle chain-lube costs like $8 dineros.
Look around for the savings and don't settle for the over priced stuff they sell at most bike shops... other wise you're not using your head, even if like you're a millionaire (in that case you're really, really not using your head).